Author Lori Hatcher On the Power of Prayer: "Our Prayers Never Expire, They Go into Eternity"
Author Lori Hatcher helps readers unlock a powerful prayer life in her latest book, Refresh Your Prayers: Uncommon Devotions to Restore Power and Praise (Our Daily Bread Publishing). This 60-day devotional equips readers to experience powerful moments each time they pray and praise the Lord. No more tired, nervous, or unsure prayers! Readers will discover a reinvigorated passion for prayer and confidence in communicating with God every day.  
Hatcher is an author, blogger, women's ministry speaker, career healthcare worker, and pastor's wife. She writes for Our Daily Bread, Upper Room, and Guideposts and regularly contributes to magazines and websites like Revive our Hearts and Crosswalk. Her first book Hungry for God . . . Starving for Time, won the Christian Small Publisher 2016 book of the year. Her second, Refresh Your Faith, won the Excellence in Editing Award. 
Q: Lori, thanks for doing this interview with us. Let's start with yourself: tell us a little about yourself and your ministry.
Thanks so much for inviting me! I'm a transplanted Yankee living happily in the South. My husband likes to say I wasn't born in the South, but I got here as fast as I could.  I'm an author, blogger, pastor's wife, career healthcare worker, and women's ministry speaker. I like to use high-impact stories to impart transformational truth (in five minutes or less). I often draw from my childhood in small town Rhode Island, my work as a dental hygienist, and the spiritual insights I gain from my four grandchildren.
Since I came to faith at age 18, my goal has been to "always be prepared to give an answer to everyone who asks you to give the reason for the hope that you have" (1 Peter 3:15). For the past 20 years, I've been digging deeply into what the Bible says about prayer and trying to practice what I've learned. And if you want to get real personal, I love Reese's peanut butter cups, long walks, and the North Carolina mountains. 
Q: Tell us briefly what is your new book Refresh Your Prayers about.
Refresh Your Prayers is a collection of real-life, high-impact faith stories based on uncommon verses on prayer. The book is practical and dynamic, with an Uncommon Power Point, a Praise Prompt, and a Live It Out component. In six sections, we examine what is prayer, Who do we pray to, why should we pray, how should we pray, and what we should pray for. The last section spotlights ten of the most beautiful prayers in the Bible. 
I also tackle some of the hard question about prayer, like: If God is in control, why bother praying? Do I have enough faith for God to answer my prayers? Is every promise in the Bible meant for me? and How can I know God is speaking to me? 
Q: Why did you decide to write a book on prayer?
Many of us learned to order groceries online during the pandemic. You know how it works. First you make a list of what you want. Then you hit Submit, sit back, and wait for your order to arrive. 
Some days you open the box and find exactly what you ordered. Other days you get something similar. Every now and then, you get an item that bears no resemblance whatsoever to what you asked for. You order bananas and get Brussels sprouts. 
For twenty years, my prayer life was a lot like online grocery shopping-frustrating and ineffective. I had so many questions. 
I went on a hunt to learn everything I could. I discovered prayer wasn't the monologue I thought it was. Instead, it's a dynamic, faith-building two-way conversation with the God who created and loves us. Prayer is so much more than handing over my wish list and waiting for a delivery. 
As my passion for prayer grew, I began leading seminars to help other women discover the joy and delight of talking with God. Many believers, I discovered, were as frustrated and confused as I'd been. I didn't know everything, but I could be, as C.S. Lewis said, "one beggar showing another beggar where to find bread."  
After I wrote Refresh Your Faith with Our Daily Bread Publishing, they offered me the opportunity to write a companion volume. I chose Refresh Your Prayers. This book is the culmination of a 20-year journey, and one I couldn't wait to share.   
Q: What do you have to say to some of our readers who are discouraged about praying, especially when we don't see any results?
I encourage them to continue to pray, because our prayers never expire. They go ahead of us into eternity and continue to accomplish God's purposes long after the words leave our lips. In the fullness of time and according to His good plan, God moves. Our human understanding is limited and short-sighted. We ask for things that seem right and reasonable, but God has greater plans. We take the short view of today and tomorrow and next week. He takes the long view and sees into the end of time. He will answer our prayers. Not always in the way we think. But in the way He knows is best. Perhaps this is why Jesus encouraged us to "always pray and not give up" (Luke 18:1). 
Q: Can you relate from your experience how prayer has impacted your own life?
I couldn't have survived the heartbreak of a prodigal child, a difficult season of marriage, and the loss of three immediate family members within nine months without the comfort and power of prayer. During the times when I felt like everything precious had been taken from me, prayer and Bible reading helped me realize I still had the greatest and most precious possession-God Himself.  
Q: How can this new book help those of us who are struggling with prayer?
My prayer is that those who feel stagnant in their prayer life will feel refreshed, and those who feel frustrated or disappointed will find new joy as they understand better how to talk to (and hear from) God. I hope readers will feel like a kind friend has come alongside them to help them learn more about prayer. My deepest desire is that the true stories about God's faithfulness and love will encourage others to persevere in prayer, especially when it's hard. 
Q: Where can our readers learn more about you online and purchase your new book?
I post five-minute devotions every week at LoriHatcher.com, and I'd love to share more about prayer through Refresh Your Prayers. You can find it on Amazon, Christianbook.com, and Our Daily Bread Publishing.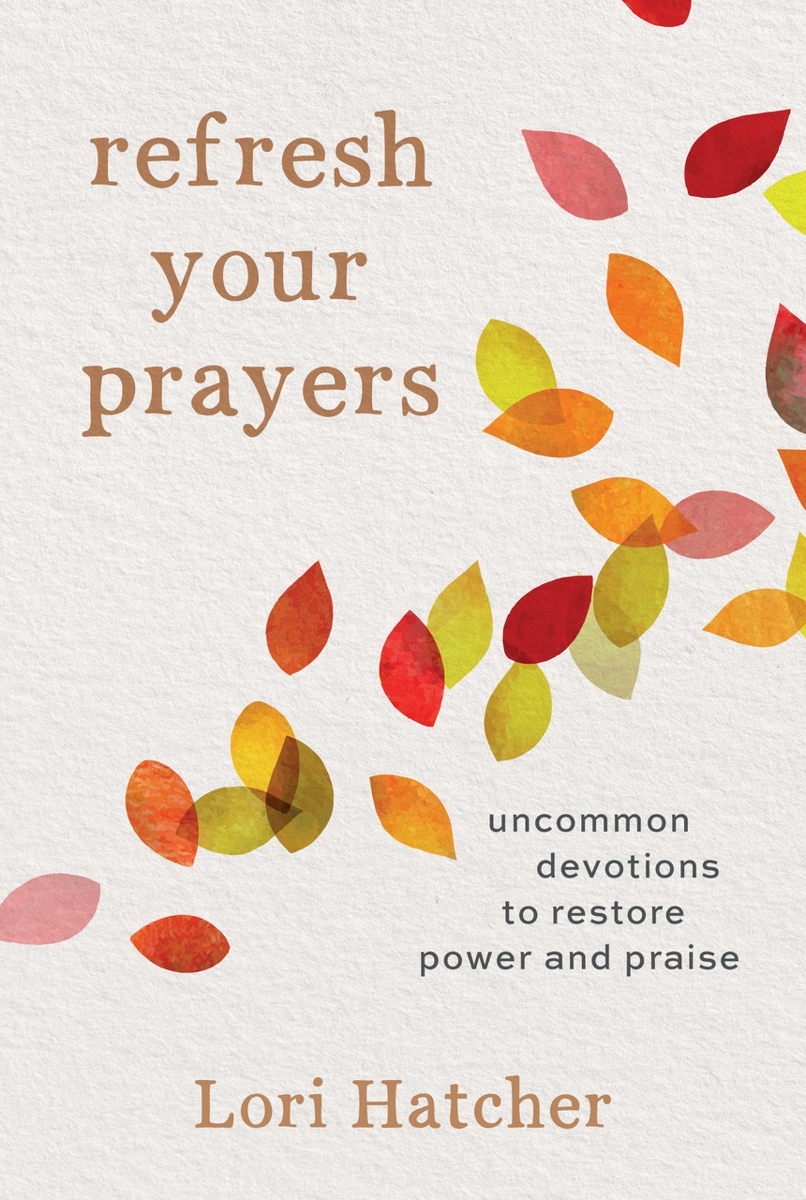 Tags : Author Lori Hatcher Lori Hatcher interview Lori Hatcher news Lori Hatcher prayer Refresh Your Prayers: Uncommon Devotions to Restore Power and Praise