Anchor Hymns Offers a Soulful Version of "Give Thanks"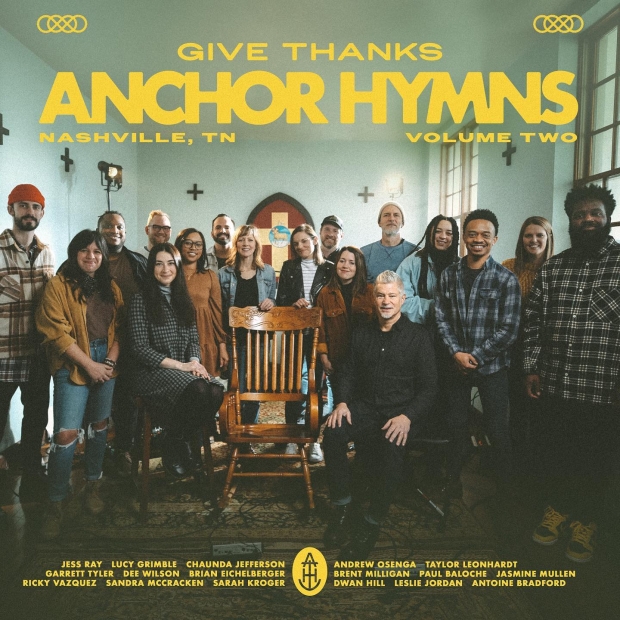 Anchor Hymns, a multigenerational collective of artists, has recorded their own version of the classic worship song "Give Thanks." The song is a firm favorite for Andrew Osenga, who is the ensemble's member and guitarist.
"There's something counter-cultural about it," Osenga says before celebrating Mission House and Jasmine Mullen (The New Respects) for how they carried the song; "I have watched them for years give of their lives in service of others with such kindness, intentionality and dignity, and so when they sing a song like this, it's from the very core of who they are." 
The song encapsulates the mellow, tight, moving, intimate, and dynamic essence of the ensemble's sound. "Give Thanks" carries Anchor Hymns' heart to comfort listeners with the reminder that the Lord is with us in questions and suffering, as well as in joys and victories.
"Give Thanks" is the title track of the group's recently released Integrity Music EP.  The songs on the new record introduce soulful versions of beloved church classics around the theme of God's kindness to us and His presence with so many generations of believers --- before and after us. 
Osenga writes, "We recorded this live in the little blue chapel of my church, which is a special and sacred space for so many reasons. A gift of a moment. May this little collection remind you that God is with you in suffering and joy, and in this very time and place where you are right now."
Musically drawing from Neo Soul, Indie Rock, Brooklyn Fusion, (Blues, Jazz, RnB, Soul), these songs are unafraid to tackle the sounds of suffering and grief, as well as joy and celebration. Anchor Hymns creates a space in our musical lexicon to find language for our grief, our suffering, our anxieties, our doubt, our disbelief, our uncertainty.
More than just a serious collection of spiritual songs, these are meant to be played on a continuum of musical sophistication, allowing room for worship musicians to level up their skills or to simplify the sounds and play within their skillset. The hope is that these songs of substance would strengthen the hearts, souls, and minds of those who engage (whether playing, or listening). They are songs that are for funerals and home churches alike, in both traditional and modern houses of worship worldwide. This is an open and accessible spiritual and musical edification that gives space for those who find it difficult to engage in typical four chord modern worship.
Anchor Hymns is made of Paul Baloche, Leslie Jordan, Taylor Leonhardt, Jasmine Mullen, Dee Wilson, Antoine Bradford, Sarah Kroger, Jess Ray, Tim Timmons, Garrett Tyler, Lucy Grimble, Dwan Hill, Sandra McCracken, Chaunda Jefferson, Brian Eichelberger, Ricky Vazquez, Brent Milligan, and Andrew Osenga.
Tags : GIVE THANKS) Anchor Hymns Anchor Hymns new EP Andrew Osenga