Bestselling author Sam Allberry Explains Why It is Important to Teach Children about Marriage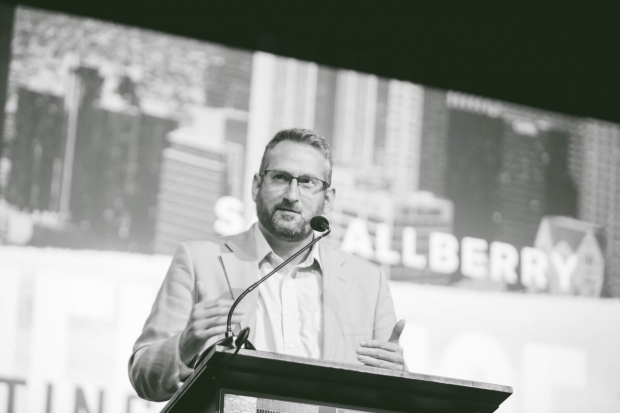 Bestselling author Sam Allberry is making his children's book debut with the release of God's Signpost: How Marriage Points Us to God's Love.  What is marriage? Is it sharing a home? Is it being in love? Is it a promise? Allberry shows us that marriage is much more than these things. Join siblings Lila and Ethan as they celebrate their grandparents' wedding anniversary and discover that marriage is a special sign that points to God's unique love for us-the kind of love that keeps on going, no matter what.  
Allberry is a pastor, apologist and speaker. He is the author of a number of books, including Is God Anti-Gay?, Why Bother with Church?, 7 Myths about Singleness, and What God Has To Say About Our Bodies.
He has written extensively for numerous organizations, including The Gospel Coalition, Desiring God, and Living Out.
Q: Sam, thank you for doing this interview with us. Let's start with yourself: tell us a little about yourself and your current ministry.
I grew up in England and just recently moved to Nashville, Tennessee, in the USA. I became a Christian around the time I turned 18, hearing the gospel for the first time through a local church's youth ministry that a friend had invited me to. A few months after that I sensed the Lord calling me to pastoral ministry, and have been serving as a pastor for nearly 20 years now. My current ministry is based at Immanuel Church in Nashville where I serve as one of the pastors. I also speak and write on various cultural issues and work as an apologist. It is a privilege to serve Jesus!

Q: When and how did you decide children's book?
I often speak about sexuality and parents often ask me how and when they should talk to their children about same-sex partnerships. It occurred to me that there are other, more basic conversations that need to have taken place already. Specifically, to have already talked at a younger age about what marriage is and how it is meant to point to the gospel. So it got me thinking about the need for a resource that could be used for younger children about marriage being a picture of Christ and the church. If we can get that foundation in place, then once they grow up and become aware of other issues around sexuality, hopefully they will have a positive framework in place to be able to think about things like the Bible's teaching about sexual sin.
Q: Since your new book is about marriage, how do you define a godly marriage?

Marriage is deigned by God to be a voluntary union between and man and a woman. It is based around covenant vows, and is meant to be life-long. A godly marriage will have in mind the ways in which marriage is meant to reflect the covenant promises God has given us in Christ.
Q: Why is it important to teach children about marriage?

The Bible's teaching about marriage and sexuality is incredibly counter-cultural in the western world today, and there are many forces and voices wanting to "disciple" even young children into different, unbiblical understandings of sexual and gender identity and marriage. So we need more and more age-appropriate resources for our younger children. The age at which children are being exposed to unhealthy thinking is getting younger and younger, so we need to be teaching a positive understanding of what the Bible says.
Q: How did it explain marriage in a way they can understand?
It is not possible to cover everything in one book, and there are many vital truths we need to convey about marriage, but in this book I tried to show how marriage is based on promise, and that those promises mimic the promises God has made to us. It is so important to understand this. It is not just about romantic feelings - as many people today tend to think. It is about wonderful promises. So I use the analogy of a wedding anniversary, because it is in the keeping of those promises and not merely in the making of them that we see something of God's love being reflected.
Q: Tell us a little about the book's illustrator Christine Grove?

Christine has done a wonderful job and lifted the book to a whole other level! She's wonderfully captured the fun and goofy feel of the book and added so many touches (my favourite being the dog!). I hope to work with her again!
Q: Where can our readers go to find out more about you and your books?
My books are all available in the usual places like Amazon. I have a (somewhat out of date!) website, samallberry.com. 
Tags : Sam Allberry Sam Allberry interview Sam Allberry children's book Sam Allberry news God's Signpost: How Marriage Points Us to God's Love