Cristóbal Krusen Opens Up About Mental Illness and the New Film LET ME HAVE MY SON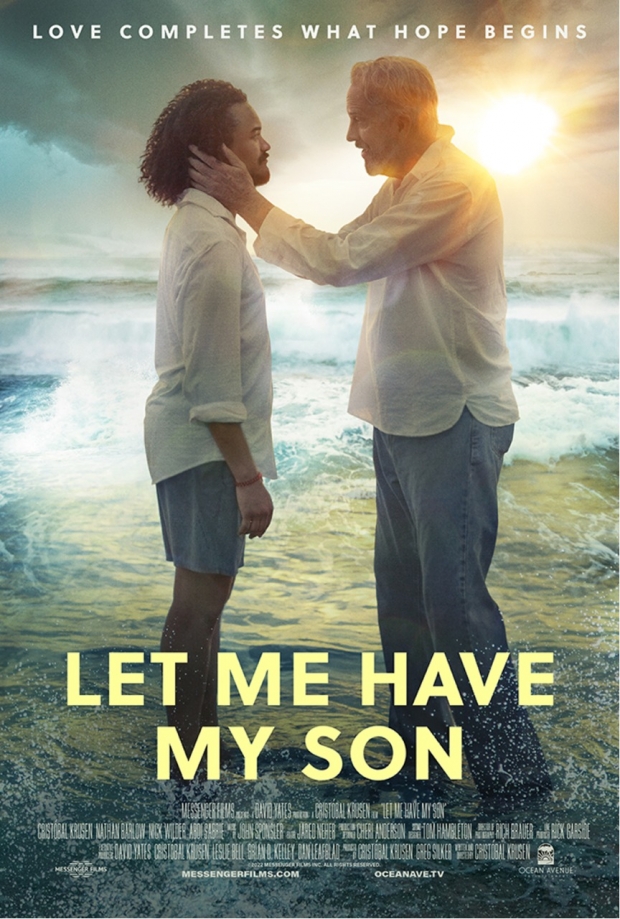 To help bring awareness to issues surrounding mental illness, bring support to families, and help dispel some of the stigma surrounding the disease, LET ME HAVE MY SON is poised to release on World Schizophrenia Day, May 24, in select theaters and streaming. LET ME HAVE MY SON was created by Messenger Films and is distributed through Ocean Avenue Entertainment.  
Originally published as a collection of prayer letters written by Cristóbal Krusen, Let Me Have My Son was first published as a book in 2007, then revised and re-released in November, 2022 to coincide with the release of the feature film. What began for Krusen as heartfelt prayers for his mentally ill son have become words of hope and encouragement to many others going through their own times of trial.  
Such is the inspiration behind the feature-length arthouse film LET ME HAVE MY SON, a semi-fictional, emotion-laden tale of a father coming to grips with his son's devastating mental illness. In the film, Ben Whitmore Sr. (Krusen) travels to Middlemouth Security Hospital after being informed that, after years of treatment, his son, Benny (Nathan Barlow) has recovered from schizophrenia. However, instead of bringing Benny home, Ben Sr. discovers that he has disappeared, triggering the father's increasingly desperate search for answers. 
Q: Cristóbal, thank you for doing this interview with us. How and when did your love for making movies start? 
I enjoyed movies as a youngster, but I never thought of making movies until I was in college and had the opportunity to watch many of the classics of cinema at film retrospectives and take a few courses in the history of cinema as well as introductory courses to filmmaking. It really grew from there.
Q: What do you think are some of the ingredients for a good movie? 
A good story, good acting, good direction, good cinematography and an honest, open approach to life are key ingredients.  
Q: You have a new movie LET ME HAVE MY SON coming out. Briefly tell us what this film is about? 
LET ME HAVE MY SON is the semi-autobiographical story of my son's struggles with severe mental illness and how this affected the family dynamic. At heart, it is the story of a father's undying love for his son, and the longing of a father to see his son healed and restored.
Q: The movie addresses the issue of mental illness. Why is it important to discuss this issue? 
It is important to delve into this issue because it is one affecting so many of us worldwide. It is often referred to as a "mental health crisis". Millions are adversely affected and the stigma surrounding mental illness still persists. Often, I have found, people are not just looking for medical answers; they are longing to be heard. They are longing for connection and compassion and some level of empathy.
Q: What do you think is the take home message(s) of the film? 
Love never fails and death shall die.
Q: I believe you wrote the book on which the movie is based. Why did you decide to write a book of prayers to your son?
Tell us more about him. Just a point of correction first: the book does not consist of letters to my son, but prayer letters for my son. Daniel was a beautiful child and grew into a handsome, engaging young man. But mental illness overtook him in his teen years. He was diagnosed with schizoaffective disorder and his condition became so severe that he required hospitalization. Due to incidents of physical assault, he was civilly committed to the state mental hospital in Williamsburg, Virginia on his 18th birthday in 2001.
From that day until now, he has spent all but two years of his life in secured mental health hospitals. The very good news is that his condition has improved over the last several years to such an extent that he is on the verge of discharge from the security hospital where he is currently to live in a group home allowing for much more freedom, family interaction, and a much-improved quality of life. I am looking forward to having my son back again! He will soon be able to have many more visitors and have normal interactions again with family and friends.
Q: Where can our readers go to find out more about the film and book? 
www.letmehavemyson.com and www.messengerfilms.com.
Thank you so much! You are welcome!
Tags : Cristóbal Krusen Cristóbal Krusen INTERVIEW LET ME HAVE MY SON parenting mental health