Here Are Lyrics to Lauren Daigle's "New"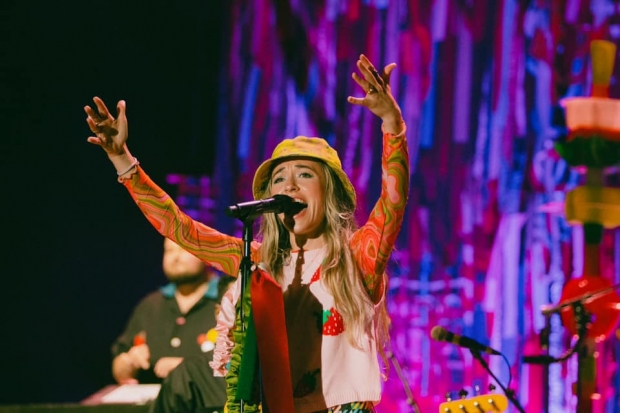 Today, two-time GRAMMY Award Winner and multi-platinum artist Lauren Daigle releases the third single from her new album, Lauren Daigle, which will be released on May 12th via Atlantic Records/Centricity music. "New," which speaks of God's power to transform our lives, was written by Daigle, Natalie Hemby & Mike Elizondo. 
Led by GRAMMY®-winning producer Mike Elizondo and featuring co-writes with award-winning songwriters, including Natalie Hemby, Shane McAnally, Amy Wadge, Jason Ingram, Lori McKenna and Jon Greene, Daigle created a body of work which showcases the multi-faceted artist's stunning and powerful voice, rich storytelling and incredible musicality. 
This fall, Daigle will embark on a highly-anticipated US arena tour, The Kaleidescope Tour, which kicks off on September 6 in Memphis, TN.  Tickets are now on sale at www.laurendaigle.com 
[Intro]
Oh oh oh, oh oh oh
La la la la la la la la

[Verse 1]
They say you used to hang around
Diablo's every night (Every night)
Tryin' to fit with the crowd
Makin' bets and pickin' fights

[Pre-Chorus]
But that was your story before me
Why don't we give all the glory
To the one you are now?

[Chorus]
'Cause old habits die
When you wanna live
I don't see the old you
I just see the new
God put you in my life
For such a time as this
I don't see the old you
I just see the new
[Pre-Chorus]
Let's talk about how you skipped over your grave
Two hands, one prayer, and everything changed
And I know the truth, and you know it too

[Chorus]
Old habits die
When you wanna live
I don't see the old you
I just see the new
God put you in my life
For such a time as this
I don't see the old you
I just see the new (Oh)

[Bridge]
All the wrongs you wanna right
All the dark you wanna light, yeah
(That's what you need, I see you) (Oh)
All the wrongs you wanna right
All the dark you wanna light, yeah
(Yeah) (I feel you, yeah yeah-eah)

[Pre-Chorus]
But that was your story before me
Why don't we give all the glory
To the one that you are now? 

[Verse 2]
So I heard you used to go down on South Street
Makin' ends and your money meet
Worried about what you're gonna eat
Yeah-eah-eah 
[Chorus]
'Cause old habits die
When you wanna live
I don't see the old you (I don't even see it)
I just see the new
God put you in my life
For such a time as this (Such a time as this)
I don't see the old you
I just see the new (I just see the new, yeah)

[Outro]
All the wrongs you wanna right
All the dark you wanna light, yeah
(Oh) (Yeah, yeah, yeah, yeah)
All the wrongs you wanna right
All the dark you wanna light, yeah
(Yeah, yeah) (Yeah, yeah, yeah, yeah) 
Tags : Lauren Daigle new lauren daigle new single lauren daigle new album