New Movie "SUN MOON" Highlights God's Role as Mapmaker in the Midst of Our Lostness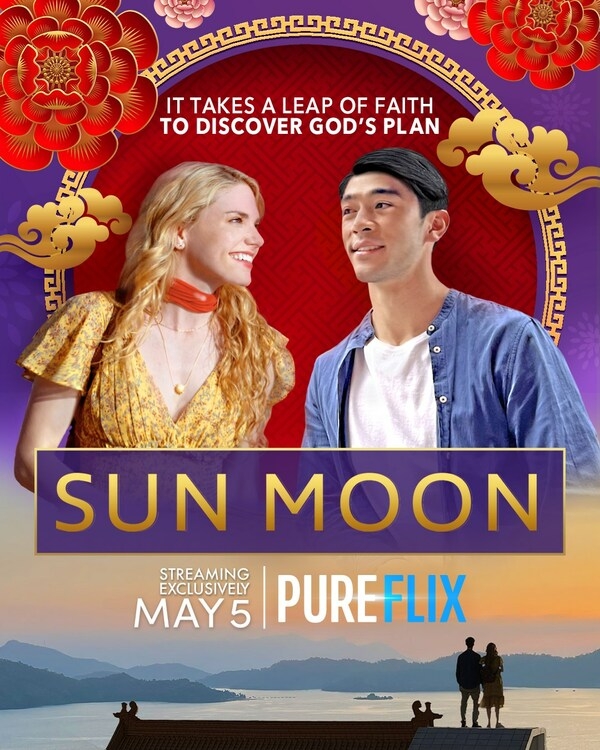 New faith-based movie SUN MOON will debut exclusively on Pure Flix on May 5, 2023. This movie focuses on family, faith and transformation as the characters travel to Taiwan to discover God's plan for their lives.
Kelsey's vision for her future is shattered when her fiance leaves her at the altar. Heartbroken and humiliated, she leaps at the chance to escape her life and teach English in Taiwan. Will she ever find happiness and love again?
"My character, Kelsey, is trying to figure out what's left of her life after her fiance ends their relationship. Everything has fallen apart for her and she's hurt and confused," said actress MacKenzie Mauzy. "I think it's a really relatable story where we feel like we're at the bottom but those moments shape our perspective as we move forward and discover opportunities that might have never existed before."
SUN MOON stars MacKenzie Mauzy (INTO THE WOODS, NCIS: New Orleans), Justin Chien (upcoming Netflix Original Series The Brothers Sun), Madison McLaughlin (Arrow, Chicago, P.D.) and Michael Jong-Quin Huang (The Haunted Heart). The film also features Jason Burkey (I CAN ONLY IMAGINE, FEARLESS FAITH) and Leanne Morgan (Netflix Original Stand-up special that debuts April 11, I'm Every Woman). 
Set in the heart of Taiwan, the movie is Tooley's love letter to the country that helped her discover joy and purpose during a trying period of her life. Sydney taught English in Taiwan after college and was able to draw inspiration for the script from her experiences.
"SUN MOON is a story about hope during the dark times where God is asking us to step out in faith and do intimidating things," said writer and director Sydney Tooley. "It reminds me of the phrase 'Jesus take the wheel.' I don't know where they think they're going but sometimes you find yourself off-roading in the jungle without a map. In the movie, Kelsey has to decide if she'll follow the map that God has given her. She learns that having the faith to follow God as the mapmaker isn't always the easiest choice but ultimately He'll lead you back to the things that are most important."
Tags : SUN MOON pure flix Mackenzie Mauzy Justin Chien faith-based movies Madison McLaughlin Michael Jong-Quin Huang