CAIN Adds 33 New Dates to their Fall Tour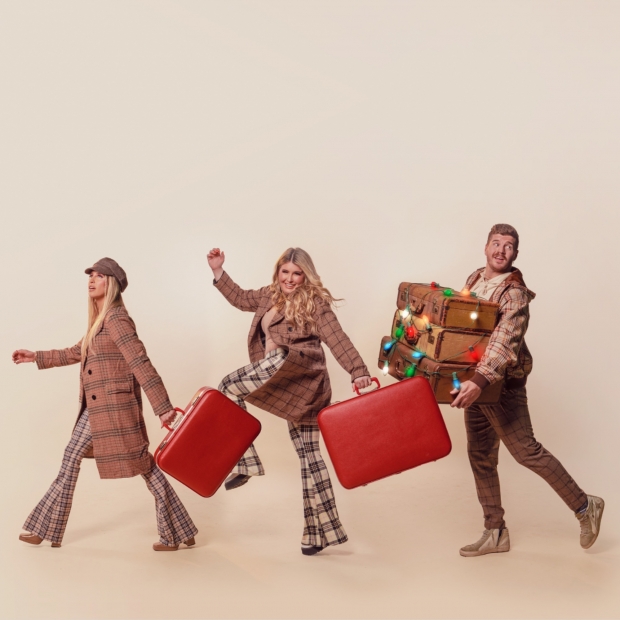 CAIN has added 33 new tour dates to their Fall 2023 calendar, extending the CAIN Live & In Color Tour presented by World Vision, promoted by Premier Productions. Joined by Katy Nichole and David Leonard, CAIN Live & In Color will kick off Wednesday, September 20, in Baton Rouge, LA.
"This fall, we are coming to 33 cities across the US on our LIVE AND IN COLOR Tour," said Taylor Cain. "We were inspired to name the tour LIVE AND IN COLOR because wearing matching colors has become part of our tradition. We want the audience to join us in wearing the chosen color for each night and together we create a family experience for everyone."
"We're trying to do something new with our tour! We want people to get to know who we are and the other artists joining us." added Logan Cain. "We promise you are going to experience something very unique which includes fun and entertainment as well as ministry, worship and a chance to encounter the presence of God."
"The spring leg of the tour was so much fun! We want everyone who comes to feel part of our family and to be reminded that we are all part of one body, no one greater and no one less," said Madison Cain. "So come experience it yourself. We're waiting for you!"
"We've had such great feedback from audiences who attended the spring tour. They have overwhelmingly described the tour as being very "authentic". There is no divide between the stage and the audience; everyone at the show is on a journey with CAIN, Katy, and David," said Josh "Mags" Magnin, Talent Buyer, Premier Productions. "Backstage they have created a culture that is reflected onto the stage. The culture of the tour is truly all about family - from the crew, artists, band members, venue staff, and yes, the babies - where they have formed a bond that carries into the entire night. From start to finish, it's an experience where you journey with all three artists with heartfelt passages, passionate worship moments, and top hits. We have all worked together to craft an experience that will capture the essence of CAIN's authenticity, passion, and fun-loving spirits from the stage. Premier is excited to launch the fall leg of this tour and continue to tell the story of their 'Commission.'"
CAIN LIVE & IN COLOR presented by WORLD VISION FALL 2023 TOUR
DATE
CITY
Wednesday, September 20, 2023
Baton Rouge, LA
Thursday, September 21, 2023
Panama City, FL
Friday, September 22, 2023
Jonesboro, AR
Saturday, September 23, 2023
Dayton, OH
Sunday, September 24, 2023
Auburn, IN
Wednesday, September 27, 2023
Reading, PA
Thursday, September 28, 2023
Rocky Mount, VA
Friday, September 29, 2023
McMurray, PA
Saturday, September 30, 2023
Lexington, KY
Sunday, October 1, 2023
Little Rock, AR
Wednesday, October 18, 2023
Monroe, LA
Thursday, October 19, 2023
Warner Robins, GA
Friday, October 20, 2023
Knoxville, TN
Saturday, October 21, 2023
New Bern, NC
Sunday, October 22, 2023
Charlotte, NC
Wednesday, October 25, 2023
Bloomington, MN
Thursday, October 26, 2023
Michigan City, IN
Friday, October 27, 2023
Lincoln, NE
Saturday, October 28, 2023
Raytown, MO
Sunday, October 29, 2023
Cedar Rapids, IA
Thursday, November 2, 2023
Lake Charles, LA
Friday, November 3, 2023
San Antonio, TX
Saturday, November 4, 2023
Houston, TX
Sunday, November 5, 2023
Lawton, OK
Tuesday, November 7, 2023
Denver, CO
Thursday, November 9, 2023
Mesa, AZ
Friday, November 10, 2023
Escondido, CA
Saturday, November 11, 2023
Modesto, CA
Sunday, November 12, 2023
Los Angeles, CA
Tuesday, November 14, 2023
Castro Valley, CA
Thursday, November 16, 2023
Sparks, NV
Friday, November 17, 2023
Nampa, ID
Saturday, November 18, 2023
Tacoma, WA
Pre-sale tickets for CAIN Live & In Color presented by World Vision will be available exclusively at CAINtour.com. Pre-sale tickets will be available on Thursday, June 15 at 10AM local time and tickets will go on-sale to the public on Friday, June 16, at 10AM local time. Additional information and tickets are available at CAINtour.com
Tags : cain CAIN tour CAIN adds 33 new dates david leonard Katy Nichole