Brooke Ligertwood to Release "EIGHT"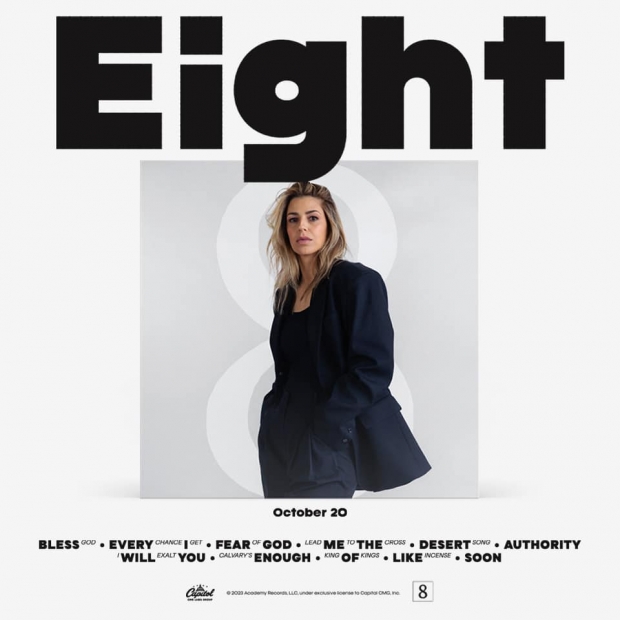 GRAMMY® Award-winning songwriter, producer and critically-acclaimed artist Brooke Ligertwood announces that she will be releasing her new worship "EIGHT" on October 20th. The 11-song record will feature 5 new songs (including "Bless God," Every Chance I Get" and "Fear of God") as well as new re-interpretations of songs she has had recorded for Hillsong Worship and UNITED. These includes staples such as "Desert Song," "Lead Me to the Cross," "King of Kings," and the underrated "Soon."
"EIGHT" follows on the heels of 2022's "SEVEN." "SEVEN" consists of nine newly penned worship songs written by Ligertwood and husband/longtime collaborator Scott, Jason Ingram (who co-produced the album with her), Pastor Steven Furtick, Brandon Lake, Phil Wickham and friends. Listen to and purchase the full album here, and preview the live video for focus track "Honey In The Rock" here.
EIGHT TRACKLIST:
1. Bless God
2. Every Chance I Get
3. Fear of God
4. Lead Me to the Cross
5. Desert Song
6. Authority
7. I Will Exalt You
8. Calvary's Enough
9. King of Kings
10. Like Incense
11. Soon
Ligertwood is an esteemed platinum recording artist and Grammy-award winning songwriter, producer and worship leader. With a passion for truth, art, humanity and the church, Brooke has served the global church through song, leadership and creativity through her many years as part of Hillsong Worship, which she leads globally, while also maintaining a mainstream career of almost two decades under her maiden name.
A prolific songwriter and obsessive about the marriage of theology and art, Ligertwood has penned a growing anthology of beloved church anthems like "What A Beautiful Name," "King of Kings," and "Hosanna," and devotional favorites like "Awake My Soul," "New Wine," "None But Jesus" and many more. 
Ligertwood's songs have been streamed globally more than 1.5 billion times, translated into over 15 languages, and have topped the CCLI chart with two no. 1's, and several Top 25's. Ligertwood's debut solo worship album is set for release on February 25, 2022. Ligertwood and songwriter/creative director husband, Scott, reside in Southern California with their two daughters. 
 
For more on Brooke Ligertwood, please visit: Instagram | Twitter | Spotify | Website         
Tags : brooke ligertwood Brooke Ligertwood new album Brooke Ligertwood EIGHT hillsong worship Hillsong United #united