PJ Morton Releases "Watch The Sun Live: The Mansion Sessions, New Orchestral Live Album"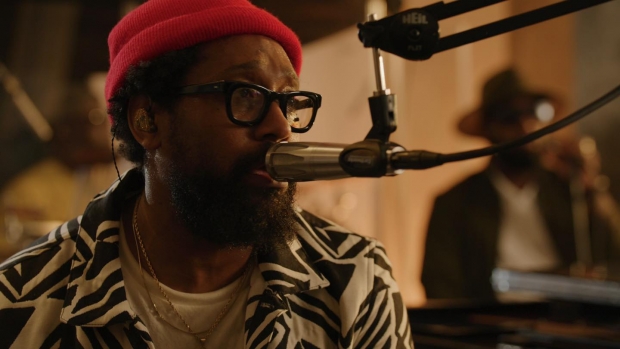 With the official release of Watch The Sun Live: The Mansion Sessions, PJ Morton continues his now cherished tradition of celebratory and communal live albums. Combining both the orchestral elements of his Grammy-winning Gumbo Unplugged with the intimacy of The Piano Album, The Mansion Sessions was similarly captured alongside friends, collaborators and fans all together in one big, beautiful room, in the form of one continuous take.
The record delivers new arrangements of songs from 2022's Watch The Sun, which earned PJ Morton his sixth consecutive year of Grammy nominations, including Best R&B Album, Best R&B Song and Best Gospel Performance/Song. A rendition of "Good Morning" featuring Susan Carol is part of the set too, as well as a cover of Ms. Lauryn Hill's "The Sweetest Thing," Morton's live show staple "Everything's Gonna Be Alright," and a six-piece ensemble of special guests on chart-topping radio hit, "Better Benediction."
"Every time I work on an album, go on tour and play it live, it starts to take on a different life," says PJ Morton. "This time was no different, so for the one-year anniversary of Watch The Sun, I invited some family and friends over, and we recorded it all on film."
The Mansion Sessions is the latest in a tireless series of exciting news from PJ Morton. Last month he announced his first-ever South Africa shows, taking place in Cape Townand Johannesburg this October. In addition to headlining both dates with his 12-piece band, he will be traveling across the continent to work with different artists and local musicians on a brand new project. More details and dates will be revealed soon. 
PJ Morton is also writing, arranging and producing original music for Disney's upcoming Disneyland and Disney World attraction, Tiana's Bayou Adventure. A dream come true for the New Orleans native, the collaboration will include new songs and fresh arrangements of fan-favorites from Disney film The Princess and the Frog, all of which visitors will be able to hear when the attraction opens next year. 
On the heels of Maroon 5's Las Vegas residency, PJ Morton returns to the road for a string of US dates next week, in a year that's already seen him play The Daily Show, Jennifer Hudson Show, Governors Ball, Blue Note Jazz Festival and much more. See the full list below and find tickets at pjmortonmusic.com/#shows.
Watch The Sun Live: The Mansion Sessions Tracklist
Intro
Good Morning (feat. Susan Carol)
On My Way (feat. Kenyon Dixon)
My Peace (feat. Mr. Talkbox & Tiondria Norris)
Be Like Water (feat. Sunni Patterson)
So Lonely
Please Don't Walk Away
Watch The Sun
Still Believe (feat. Sheléa)
Lil Too Heavy
Better Benediction (feat. Zacardi Cortez, Erica Campbell, Lisa Knowles-Smith, Tim Rogers, Samoht & Darrel 'MusiqCity' Walls)
Everything's Gonna Be Alright
The Sweetest Thing
PJ Morton Tour Dates
8/16 - Detroit, MI - The Aretha Franklin Amphitheatre
8/17 - Chicago, IL - Millennium Park Summer Series
8/19 - Columbus, OH - CBUS Soul Fest at Genoa Park
9/16 - Pittsburgh, PA - Pittsburgh International Jazz Fest
9/17 - Atlanta, GA - Music Midtown - Piedmont Park
9/21 - Los Angeles, CA - Bram Goldsmith Theater
10/6 - Cape Town, South Africa - The Old Biscuit Mill
10/13 - Johannesburg, South Africa - Theatre of Marcellus at Emperors Palace
11/24 - New Orleans, LA - Orpheum Theater
Tags : pj morton pj morton news pj morton new album "Watch The Sun Live: The Mansion Sessions New Orchestral Live Album"