Attaboy Releases "Makin' Moves" & Announces Upcoming Tour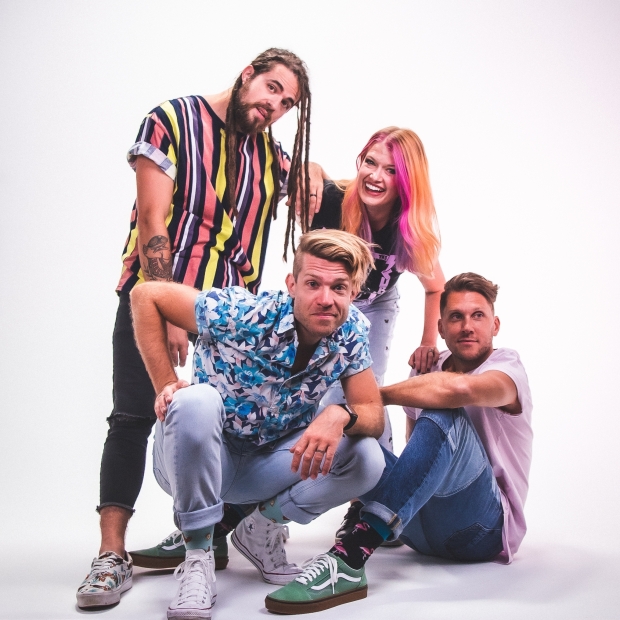 Leading school assemblies followed by evening, full-production concerts coast-to-coast, Indiana-based pop/rock band Attaboy releases today (Sept. 1) its first new single in four years, "Makin' Moves," from Radiate Music. Available now at digital and streaming outlets globally via https://attaboyonline.com/makin-moves, the infectious pop track will also land on dance floors, fitness centers and workout playlists along with venues across the country as the band hits multiple states on tour this fall.
Written by Attaboy band members Ryan Payne (vocals/guitar/piano), Jeff Edgel (guitar/piano), Melanie Watson (bass/background vocals) and Christian Watson (drums), "Makin' Moves" was co-produced by Doug Weier (Anberlin, We Are Leo), who also engineered and mixed the single, and Luke Johns (The Young Escape, Jordan Feliz).
"You might be going through some tough situations, but this song is about proactively overcoming adversity," shares Payne. "There comes a time when you have to step up and make some moves to make things happen; to show perseverance and determination in order to move forward in spite of the adversity."
The new single follows Attaboy's sixth full-length and first Radiate Music album, WILD, that was released in 2019 and features the Parade.com-premiered anti-apathy track "Waking Up."
Taking its relevant, energic new music, fan favorites and hopeful messages to school assemblies, youth conferences and other events coast-to-coast, Attaboy's fall 2023 schedule includes stops in New York, Illinois, Connecticut, Indiana, Ohio, Pennsylvania, Tennessee and Arkansas. While the band's assemblies and youth conference events are generally closed to the public (these dates can be found at https://attaboyassemblies.com/schedule), concerts open to the public can be found on the band's website at https://attaboyonline.com/.
With more new music slated to come out this year, all the latest Attaboy tour and album information can be found on their website and socials, including Facebook, Twitter, Instagram, TikTok, Apple Music, Spotify and YouTube.
Tags : attaboy attaboy news Attaboy makin' moves Attaboy tour