Kim Gentry Meyer Reveals the Heart Behind Her New Record "Herald"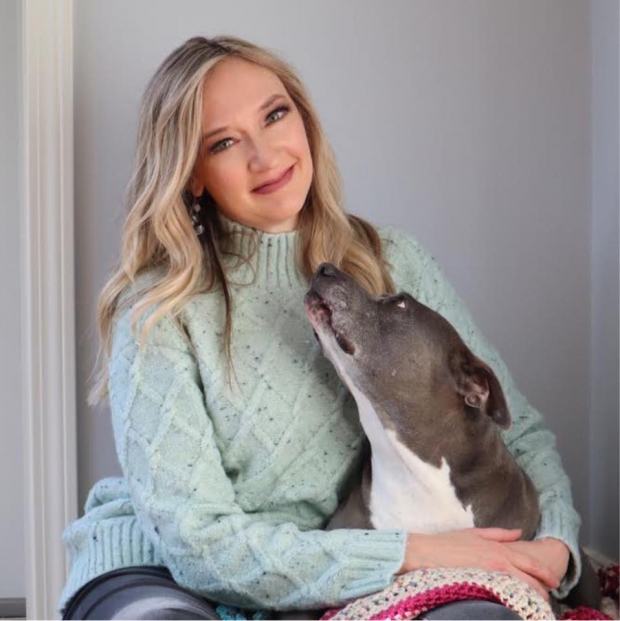 Award-winning songwriter and poet, recording artist, multi-instrumentalist, model, and Mrs. Massachusetts 2020 (part of the prestigious Mrs. America organization), Kim Gentry Meyer, recently released her debut solo album, Herald, from NWN Records. The project is distributed by Integrated Music Rights, part of the Integrity Music family.
In addition to winning the Mrs. Massachusetts 2020 title, Kim is an International Acoustic Music Award winner and a finalist in the USA Songwriting Competition. She has showcased at esteemed venues including the Blue Bird Café in Nashville, Tennessee, and the SXSW Festival (South by Southwest) in Austin, Texas. She was recently named a 2023 Woody Guthrie Poet and was invited to read her newly published poem, "You'll Find Me There" (which appears in song form on her new album) during the 2023 Woody Guthrie Folk Festival, which celebrates the life and work of the late legendary singer/songwriter best known for his song, "This Land is Your Land."
Q: Kim, thanks for doing this interview with us. I have read that you came from a family where two of your great-grandmothers were preachers. Can you tell us more about your family and how music has shaped your childhood? 
Yes, both of my maternal great-grandmothers were in ministry, one as an evangelist and the other as a church planter. My paternal grandmother was also a song leader at her church. This family legacy of ministry is very special to me, and I've always felt a deep call to continue it. Being raised in a Christian home provided many opportunities to explore the intersection between my love for music and my love for the Lord, and out of those experiences my music ministry developed.  
I started playing piano at age four and picked up a few other instruments along the way. I've also always loved singing, and since I played piano I could accompany myself, which was really helpful. When my brother Chad was old enough he took up guitar, so we both made a lot of joyful noise! Our house was always filled with music. 
Q: You and your brother were also part of a duo. Can you tell us more about this season of your life? 
Our folk pop duo Berteal (named for our maternal grandmother - a strong Christian role model we never had the privilege of knowing) came about after Chad encouraged me to focus on songwriting to promote causes and topics that were important to me. I sang lead and played both keyboard and accordion, and Chad sang and played guitar. You just can't beat those sibling harmonies! We had a lot of fun performing and recording the songs we wrote. It was a really productive time for me musically.  
Q: How would you describe your music style? And how did you come to develop your sound? 
I feel like I really honed in on my sound and style as an artist during my time in Berteal.  
Q: What was your vision when you were making "Herald?" 
One evening during my prayer time I asked the Lord for some direction for my ministry. "Who am I to you, Lord? What purpose do you specifically have for me?" I know what the Bible says about our identity, and I certainly receive all of it, but I desired more clarity on my specific call, so I asked Him. He immediately spoke to my spirit, "You're my herald." I asked again to make sure I heard it correctly, because it certainly wasn't a word I was expecting or thinking about. I quickly heard him say again, "You're my herald."  
I took some time to process this, and I studied every context of the word I could find. As I fully embraced this calling, the question became, where should I start? How could I use my unique giftings to be the Lord's herald? 
When I asked the Lord, I felt prompted to do an album, which was very unexpected. But the prompting continued, so I dove in, and here we are.  
Q: Why do you think it is essential to address the issue of mental health in your song "Mind of Christ?" 
There are so many verses in the Bible about the importance of renewing our minds, demonstrating how central mental health is to our wellbeing and our walk with the Lord. Even so, the Christian community is sometimes reluctant to openly talk about it. I believe this needs to change, so I decided to write a song about it. 
I do believe "Mind of Christ" is very timely, especially after the isolation of the pandemic, but I endeavored to write it in a way that is relevant no matter the season. Whether listeners are just feeling down or are struggling with clinical depression, I pray it resonates. I myself have fought battles with depression, so I know firsthand the struggle, but I also know the peace and healing the Lord can bring to any struggle. The greatest battle is the battle for our minds! 
Q: I love the song "Perfect Love." What's the story behind this ballad? 
A: I'm so glad you love it! Thank you for such kind feedback. I wrote "Perfect Love" for an Easter service to explain the Easter story to those visiting and not familiar with it. I took a very different approach with it in terms of there not being a consistent rhyming structure. It's the only song on the album like that. But it just felt right; more like a conversation. I feel it lends an accessibility that it would not have otherwise. And my producer Karl Anderson did such a beautiful job with the production. 
Q: What inspired you to use your art with your music? 
A: I was asking the Lord for guidance with my Herald album, and he gave me the image of a sunset. I sensed he was saying to paint it, so I gathered some old canvases I had lying around and just started painting sunsets. I eventually completed eight sunsets, one for each song on Herald, and chose one of them to be my album cover. 
For me, the sunsets proclaim the coming of the Lord, but as with all art, I know the interpretation is unique for each viewer. My prayer is that my art ministers in ways that resonate where words fall short. Overall, I see my art as another way for me to be His herald. 
Q: Tell us briefly about your love of animals. 
My husband and I have been involved with dog and cat rescue and adoption efforts for almost twenty years. We have seen firsthand the need for more people to choose animal adoption, to spay and neuter their pets, and for there to be more attention drawn to this issue. We have had over 100 dogs come through our home as fosters, and almost as many cats. We especially gravitate towards the seniors and special needs pets that are hardest to place. The Bible calls us to care for God's creation, so for me, my love for animals aligns well with my Christian faith.  
Q: How do you hope these songs will minister to your listeners? 
This album is my earnest effort to proclaim the goodness, truth, love, and ultimate return of the Lord. I created it as an act of obedience. I've purposefully packed every song full of Bible verses, and since we know His Word never comes back void, I just want to get out of the way and let the Lord use the songs however He wants. I pray that the songs on Herald will speak into listeners' lives in specific, timely, and encouraging ways, and that the peace of Christ will flood the atmosphere wherever the songs are played. 
For more information about Kim Gentry Meyer and Herald, visit kimgentrymeyer.com. To pre-save the project, click here.
Follow Kim Gentry Meyer on Facebook and Instagram. 
Tags : Kim Gentry Meyer Kim Gentry Meyer Herald Kim Gentry Meyer new album Kim Gentry Meyer interview