American Patchwork Quartet Honors Veterans' Day with "Gone For Soldier"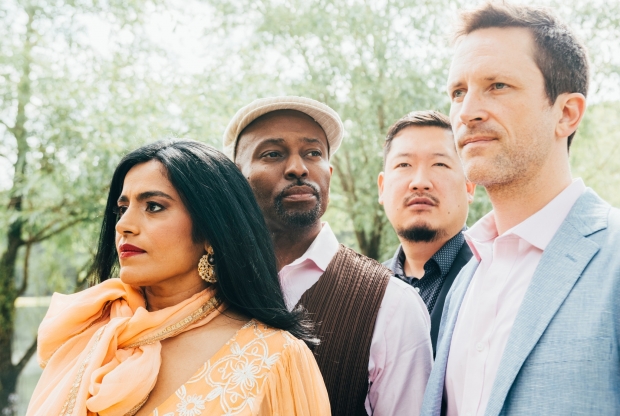 American Patchwork Quartet (APQ) have shared a poignant take on the traditional Celtic ballad "Gone for Soldier" in honor of Veterans Day today. "Gone for Soldier" is the second advance track from their forthcoming debut album American Patchwork Quartet, out February 9. 
Dedicated to those whose personal stories of pain and longing have been overlooked in the face of war, the song represents an offering of peace, unity, and understanding amidst tumultuous times. Drawing upon the sounds of Irish musical traditions and uniting it with contemporary sensibilities, GRAMMY-winning singer Falu offers hauntingly melancholic, wailing Indian inflections, giving voice to the anguish and yearning felt by those impacted by conflict.
APQ's rendition of "Gone for Soldier" aims to build bridges and initiate dialogue, serving as a solemn reminder that peace is a treasure, and its preservation is a collective responsibility. The group offers a vivid reimagining of the song, often known for versions by American musical group Solas along with an interpretation by Peter, Paul, and Mary from their album Moving (1963). 
Pre-order American Patchwork Quartet here (out February 9): https://americanpatchworkquartet.bandcamp.com/ 
A symbol of unity in diversity, APQ comes from two-time GRAMMY winner Clay Ross (Best Regional Roots Album; 2020 and 2022), GRAMMY-winning vocalist Falu (the first female singer-songwriter from India to win the award), go-to jazz bassist Yasushi Nakamura (Cecile McLorin Salvant, Joe Lovano, Kurt Elling) and drummer Clarence Penn (who has played on two GRAMMY-winning records, won a Juno Award and was mentored by Ellis Marsalis). Together they celebrate America's musical traditions, while exploring what it means to be "traditionally American" in the first place. On the group's upcoming self-titled debut album (out February 9), they reinterpret traditional folk songs synonymous with the American experience by incorporating their own American voices - which, in many cases, are voices that wouldn't have been incorporated when these centuries-old songs were first popularized.
"APQ's debut is a symphony of cultures, harmoniously woven together to create a musical tapestry that speaks to the soul. In the spirit of '60s folk revivalist bands like the Weavers or the Byrds, this 21st-century take on traditional music brings the welcomed lens of American diversity to center stage. Truly, a groundbreaking work that's as myriad and intricate as the nation it represents" - MarySue Twohy, Program Director, SiriusXM
A collection of fourteen songs - carefully selected as both an homage to America's past and a showcase of its ever-changing present - this debut album dives deep into America's patchwork soul to share the joys, sorrows, and unwavering hope of a nation built on diverse histories. Through a range of musical and cultural lenses, the tracklist reveals that from a collage of varied backgrounds, a coherent and beautiful whole can be fashioned.
AMERICAN PATCHWORK QUARTET - TRACKLIST:
Beneath The Willow
Lazy John
The Devil's Nine
Cuckoo Bird
Shenandoah
Pretty Saro
Soul of a Man
Gone For Soldier
Big Sciota
Wind And Rain
I'm So Glad
Wayfaring Stranger
John The Revelator
The Blackest Crow
Tags : American Patchwork Quartet Veteran's Day American Patchwork Quartet new single Gone for Soldier