Lecrae & Zaytoven Announce Joint Project "Let The Trap Say Amen"
On June 22, 2018, GRAMMY Award-winning recording artist, Lecrae, will release a special mixtape project via Reach Records with fellow GRAMMY Award-winning producer, Zaytoven, entitled Let The Trap Say Amen. Born out of a mutual respect for each other's work and joined by common faith, the two Atlanta legends came together for a release aimed at bridging understanding and building community, especially in underserved neighborhoods across America often dubbed "The Trap."
In a guest editorial Lecrae penned for DJBooth.net to announce the project last week (May 24), The Trap Does More Then Say "Aye", Lecrae explains, "When I hear the term 'trap music,' I don't think of glorifying the negativity. I think of a soundscape that speaks a certain language. I think of music that tells real stories." He continues, "There's a whole other side to the trap that doesn't get exposed...You can't pigeonhole our communities. Everyone in the Trap ain't trappin'."
Brimming with Zaytoven's thunderous beats and Lecrae's vivid storytelling, the 13-track project, Let The Trap Say Amen, is available today (June 1) for pre-order. Download now and receive the first single "Get Back Right" as an instant gratis track.
To bring his message home, Lecrae is hosting a city wide community contest in Atlanta to honor exemplary small business owners, youth entrepreneurs, artists and musicians. Contestants are instructed to submit videos via Instagram using the hashtag #trapsayamen and tagging @lecrae by June 15, 2018. To celebrate the positivity that exists in the trap, on July 6, Lecrae and Reach Records will also host a pop up performance in Atlanta and present the outstanding contest winners with a cash prize. Further details will be announced in the coming weeks.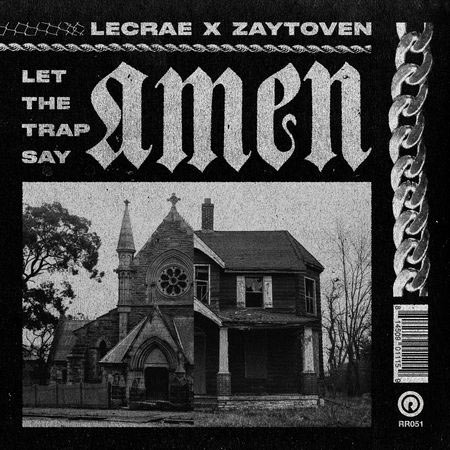 Get Back Right
Preach
2 Sides Of The Game feat. Waka Flocka Flame and K-So Jaynes
Plugged In
Holy Water
Blue Strips
Only God Can Judge Me
Yet
I Can't Lose feat. 24hrs
Switch feat. ShySpeaks
Can't Block It
Fly Away feat. nobigdyl.
By Chance feat. Verse Simmonds
About Reach Records:
Reach Records is an independent record label founded in 2003 and co-owned by Ben Washer and two-time GRAMMY Award-winning artist Lecrae Moore. The Atlanta-based label recently expanded offices to New York City and is home to eight recording artists including Lecrae, 1K Phew, Andy Mineo, GAWVI, KB, Tedashii, Trip Lee and WHATUPRG. Since its beginnings as a startup to selling over 2.8 million albums, Reach's purpose remains the same: To change the way people see the world. For more information on Reach Records, visit reachrecords.com.
Tags : Lecrae lecrae and zaytoven lecrae and zaytoven let the trap say amen lecrae news lecrae and zaytoven new album