Christy Nockels Reveals How Her New Song "Valor" Came at a Time When She Almost "Threw in the Towel"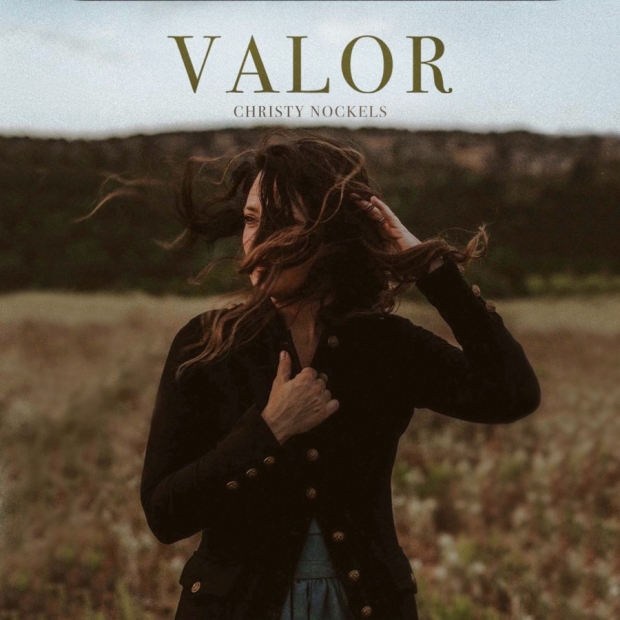 Three-time GMA Dove Award-winning worship leader, singer-songwriter, author and podcaster Christy Nockels releases her four-song Valor EP today. Produced by her husband Nathan Nockels (Passion, Matt Redman, Laura Story), the Valor EP's opening title track encourages noticing the faithfulness of God throughout our lives and how hardships, pain and trials are not for nothing 
Nockels reveals how the song "Valor" came about. "The Lord brought this song in an hour that I was ready to throw in the towel and quit everything, and that wasn't even a year ago. I had become discouraged beyond anything I'd ever experienced before. It was an evening on my porch, alone with God, that I finally had the courage to open my mouth--to break my silence with Him and begin to utter my cries for help. And He came to my rescue.
"It was a homecoming. And it was here that I found the strength to stand once more. Not a pull-myself-up-from-my-bootstraps kind of standing up...but an inner strength that's not my own. The strength that prevails--which is Christ in us--our hope of glory. It's the bravery to stay awake and sober to the voice of God in these days. The courage to face the pain of our stories and rather than take offense, fiercely offer our whole heart."
Webster's Dictionary defines valor as: strength of mind or spirit that enables a person to encounter danger with firmness: personal bravery. Nockels' new song encourages us to face up to our challenges with bravery. "Whatever it is we're facing--the bravest step we can take is surrender. Yielding once again to a sovereign God who made us, knows us and loves us. Moving towards Him, our Shield and the Lifter of our head. As you listen, I pray that you'll find yourself in the story--a pioneer, standing in a perfect strength, knowing full-well that you don't face this hour alone!"
Available now at digital and streaming outlets worldwide via https://christynockels.lnk.to/valorepPR, the EP precedes this acclaimed worship artist's first new, full-length studio album in over five years that is set to release February 24, 2023 (title to be announced soon).  
Tags : Christy Nockels Christy Nockels Valor Christy Nockels Valor EP Christy Nockels Valor new song