New Book of Christian Martyrs Coming on March 7, 2023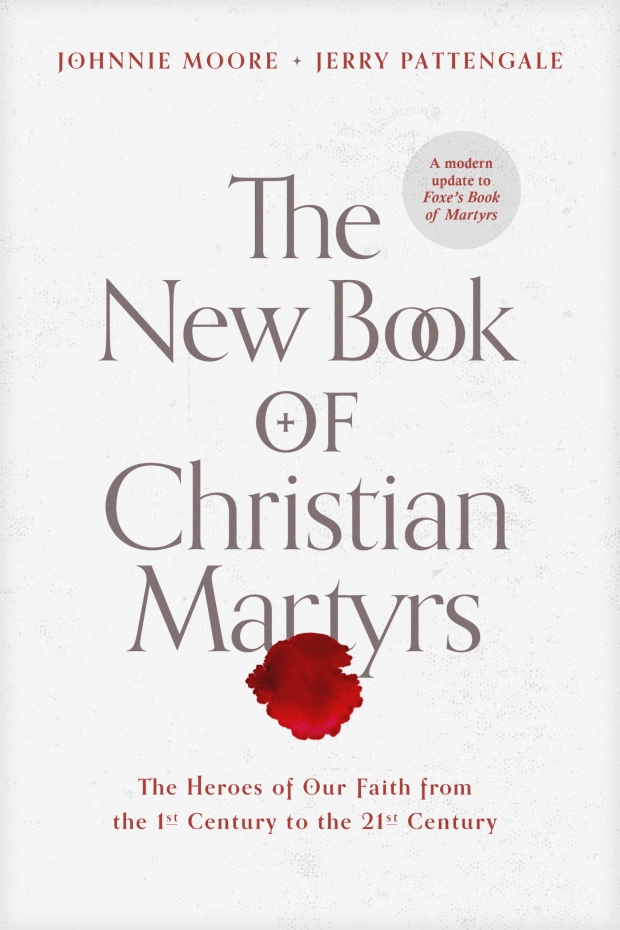 Inspired by the iconic martyrology, Foxe's Book of Martyrs, Johnnie Moore and Jerry Pattengale spent more than five years researching, excerpting and adding to this iconic work in order to produce an entirely new book which artfully integrates the historic Foxe's text and modernizes it for a new generation. The New Book of Christian Martyrs is on sale March 7, 2023 published by Tyndale House.
Co-authors Moore and Pattengale remind us that along with a King James Bible and Pilgrim's Progress, Foxe's was one of the most popular books in Early America and England. They conclude that "in a time of rising, global persecution we believe it's time for a new generation of Christians to learn again about the sacrifices of the 2000 years of Christians that came before them. Our prayer is that there's a copy of The New Book of Christian Martyrs in every Christian home."  
This inspiring keepsake honors the heroic sacrifice of modern martyrs-including those from the last several years-for their Christian faith, while also showing how their actions mirror a long line of brave Christians. 
The book is groundbreaking in two respects: it provides substantial, historic (and sometimes unflattering) context for the modern reader and the book pulls together powerful stories of Christian sacrifice from the Catholic and Orthodox Christian communities to complement the historic Protestant accounts in Foxe's Book of Martyrs. 
"Integrating Catholic and Orthodox stories into a work inspired by Foxe's Book of Martyrs was once unfathomable-it is groundbreaking," said Moore and Pattengale. "Foxe's historic work emerged in the aftermath of the reformation and reflects the vicious conflict among the reformers and Catholics; we have been faithful to that history but we have carefully selected and integrated stories in the modern era of Christian sacrifice from all Christian communities because we have all learned that when someone decides to kill a Christian for their faith they simply look for a cross."
The book highlights key martyrs from the first century to the twenty-first century, from Europe to Africa and from Asia to the Americas to inspire Christians around the globe. 
Supported by new first-hand interviews with surviving family members and friends of modern martyrs, many of their stories were unknown until now.
"This book is especially important because . . . we are witnessing in the twenty-first century, Christian persecution rarely seen since the first century," said Moore and Pattengale. "Many people don't realize that today thousands of Christians are dying cruel deaths throughout much of the world. There were, in fact, more martyrs in the last century than in all the previous Christian centuries combined."
Tags : Jerry Pattengale Johnnie Moore The New Book of Christian Martyrs Foxe's Book of Martyrs